Analysis of Environmental Sustainability in the Holy Quran: Maqasid Framework
Keywords:
maqasid systems, Islamic worldview, environment, sustainability, conservation
Abstract
The current global challenges of climate change and sustainable development is rendering the world helpless with numerous failed attempts at addressing these critical issues. Exploring the Islamic worldview of environmental sustainability and conservation therefore is even more vital in these momentous times. This worldview features a purpose-spirited focus by exploring the higher objectives behind environmental sustainability as extrapolated from the Revelation. There are four main themes that are highlighted in the Quran in relation to the environment, including the concepts of corrupting (ifsaad) and bettering (islaah) earth, along with the key objectives of being custodians and inheritors of earth (istikhlaf/ isti'mar/ wirathah). The concept of utilization (taskheer) is coupled with the 'communities like you (umam) that share the planet and resources with us. Derivatives of the term (fa sa da) have been mentioned 50 times in the Quran, 36 of which reference earth. Custodianship is highlighted in the Quran more than 30 times, with direct reference to earth mentioned 17 times. Facilitation includes many groups such as the sun and the moon, which was emphasized nine times, as well as stars, sea and cattle, each emphasized three times in conjunction with the facilitation theme. Stipulated values include the value of knowledge, respect, preservation, humbleness and responsibility. The collection of verses have been compiled, coupled with references from the Sunnah and Islamic jurisprudence, and analyzed in light of the maqasid methodology. Similarly, human groups can be classified further to reformers, corrupters, believers, non-believers, wrongdoers and hypocrites, while other communities such as animals, plants, mountains and other species fall under groups. Environmental sustainability from an Islamic worldview is defined in a distinctive and holistic manner which combines spiritual, social, economic, moral, honest, intellectual, and religious aspects into one core meaning. Although some creatures are facilitated for humans on Earth, they are communities like human kind which emphasizes that bettering and preserving the balance of Earth is the humans unique responsibility.
References
Abu Rayash, Azzam and Dincer, Ibrahim. (2020), Energy Sustainability. Elsevier Inc.
Al Jayyousi, Auda. (2013), Islam and Sustainable Development. Jordan, Freidritch Ebbert Stiffung.
Al Masri, Rafat. (2021), the Constitution of Custodianship in Surah Al Baqarah "Dustur al-Istikhlaf fi Surat al-Baqarah". Jordan, Madarij Foundation
Auda, Jasser. (2021), The Maqasid Methodology. United States, Maqasid Institute
Daud, Mohammed et al. (2015), Islam and the Environment: Education Perspective. Al-Ta'lim Journal
Hussain, Shaker. (2017), Qadam Sidq wa Akhawatuha. The University College of Al Imam Al Atham.
Sahih Muslim 2619. In-book reference: Book 45, Hadith 176. USC-MSA web (English) reference: Book 32, Hadith 6348
Smith, Gar. (2002), Islam and the Environment. Earth Island Institute
UN Climate Change. (2021), What is the Kyoto Protocol? https://unfccc.int/kyoto_protocol
UN Environment Programme. (2019), Chemicals and Waste. Thirty years on, what is the Montreal Protocol doing to protect the ozone? UN Department of Economic and Social Affairs. 2015, The 17 goals.
UN Department of Economic and Social Affairs. (2015), End poverty in all its forms everywhere
Wihbey, John. (2012), Green Muslims,' Eco-Islam and Evolving Climate Change Consciousness.
You Matter. (2020), Climate Change: Meaning, Definition, Causes, Examples And Consequences article.
Zfar, Salman. (2019), Environmental Sustainability in Islam. EcoMENA,
Echoing Sustainability in MENA. https://www.ecomena.org/sustainability-islam/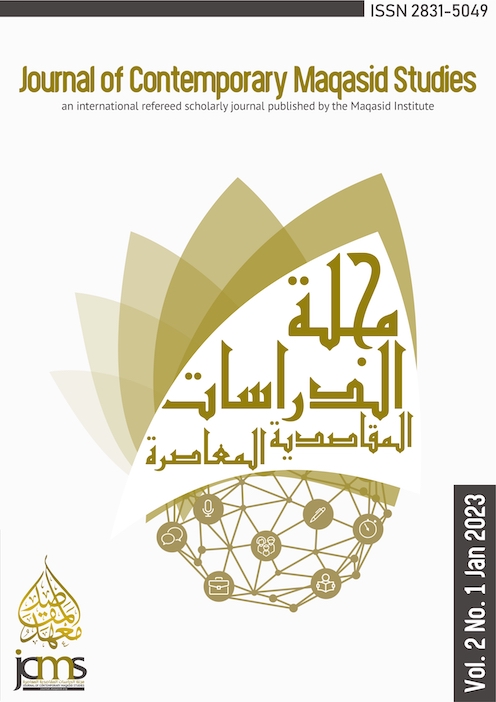 Downloads
How to Cite
Abu-Rayash, A., & Sabbah, E. (2023). Analysis of Environmental Sustainability in the Holy Quran: Maqasid Framework. Journal of Contemporary Maqasid Studies, 2(1), 61–94. https://doi.org/10.52100/jcms.v2i1.96
License
Copyright (c) 2023 Journal of Contemporary Maqasid Studies
This work is licensed under a Creative Commons Attribution-NonCommercial 4.0 International License.