About the Journal
The Journal of Contemporary Maqasid Studies is an international peer-reviewed scholarly journal published by the Maqasid Institute. The Journal publishes articles in Arabic and English bi-annually (January and July).
Online ISSN: 2831-5049
Vision:
The Journal of Contemporary Maqasid Studies (JCMS) aims to become a leading intellectual forum for publishing scholarly research in maqasid (higher objectives) methodological and applied studies.
Mission:
To publish refereed research in the field of maqasid of the revelation (Qur'an and Sunnah) and Islamic Shari'ah in compliance with international publishing, peer-reviewing, and arbitration standards. The Journal aims for a methodological leap in maqasid based studies and solutions, and to establish a framework for dialogue with other methodologies.
Aims:
Support contemporary innovative and applied Maqasid studies.
Revive the Maqasid heritage in contemporary discourse and in observance of Islamic Shari'ah principles.
Develop contemporary maqasid methods for the revelation to become a central source for human knowledge.
Promote dialogue between different methodologies.
Current Issue
Vol. 2 No. 2 (2023)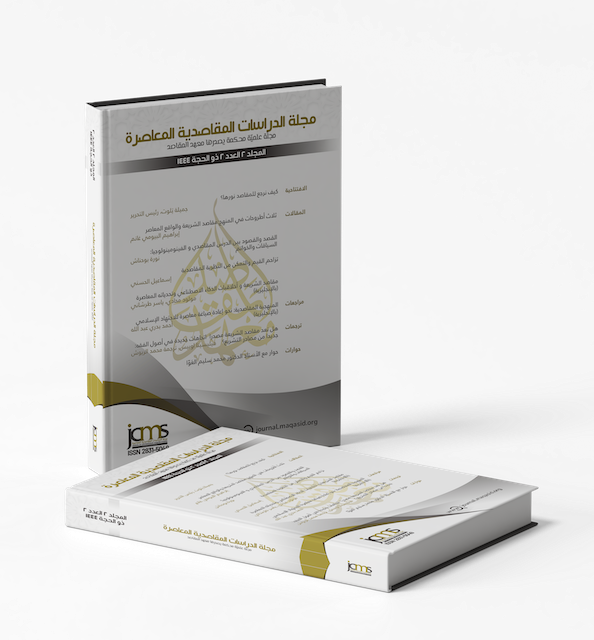 Challenges in the Contemporary Maqasid Methodology
The maqasidi thought has encountered a set of qualitative and quantitative challenges and problems, especially at the level of its methodology and epistemology that yielded an enormous impact on the rest of the Islamic disciplines. One of the prevalent problems related to the maqasid lies in the misappropriation and ambiguity of implementation due to researchers' intent of correlating the maqasid with reality in order to implement/activate, and intertwine it with new theories. 
Hitherto, the endeavors of "rationalizing" Islam have led to the acceptance of several modern "concepts", "theories", and "values" as 'Islamic' under the banner of maqasid. This has indeed produced several scientific dilemmas manifested in various areas of human knowledge.
Therefore, the Fourth Issue of the Journal of Contemporary Maqasid Studies sheds light on some of the epistemological and methodological problems in the maqasid methodology to improve and develop it. Appropriately, researchers are cordially invited to reflect upon the following themes: 
The maqasid methodology in light of taqlid (imitation) and tajdid (renewal) 
The maqasid methodology between the legal discourse and reality
The maqasid methodology and the problem of sources 
The maqasid methodology and western methodologies.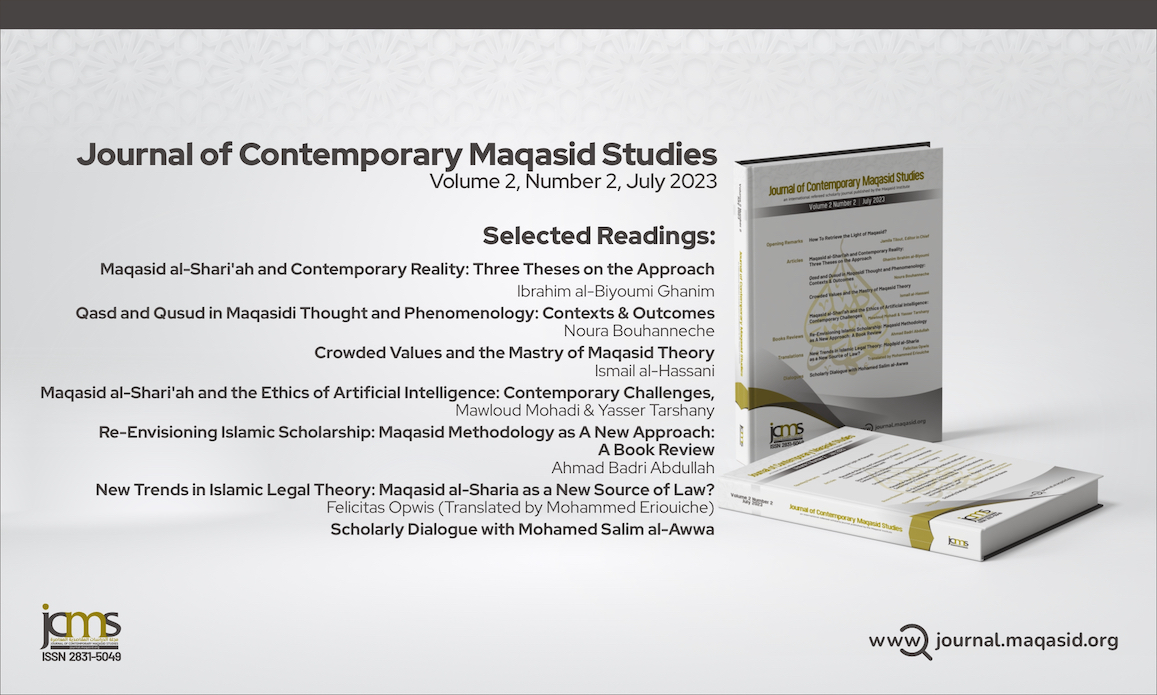 Download Full Articles HERE
The Journal of Contemporary Maqasid Studies
is an international refereed scholarly journal published by the Maqasid Institute
journal.maqasid.org
ISSN 2831-5049
View All Issues